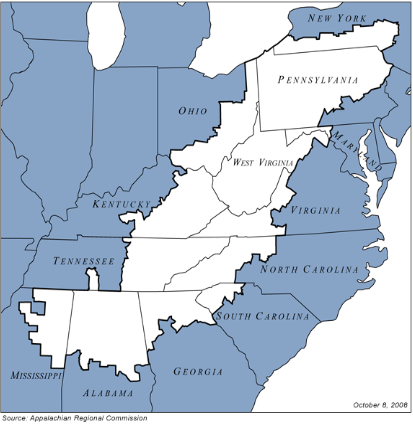 The current boundary of the Appalachian Region includes all of West Virginia and parts of 12 other states:
Alabama
Georgia
Kentucky
Maryland
Mississippi
New York
North Carolina
Ohio
Pennsylvania
South Carolina
Tennessee
Virginia
The Region covers 205,000 square miles and 420 counties, and is home to more than 25 million people. Forty-two percent of the Region's population is rural, compared with 20 percent of the nation's.
The Appalachian Region's economy, which was once highly dependent on extractive industries, has become more diversified in recent times and now includes larger shares of manufacturing and professional services, among other industries.
Appalachia has made significant progress over the past five decades: its poverty rate, which was 31 percent in 1960, had fallen to 17.2 percent over the 2010–2014 period. The number of high-poverty counties in the Region (those with poverty rates more than 1.5 times the U.S. average) declined from 295 in 1960 to 91 over the 2010–2014 period.
Despite the progress made in the Region, many challenges remain, with Appalachian incomes, poverty rates, unemployment rates, and post-secondary education levels still lagging behind performance at the national level. In addition to these socioeconomic deficits, for many of the health drivers and outcomes discussed in this report, the Region performs poorly when compared to the nation as a whole. Progress in the socioeconomic and health spheres are often interrelated, if not interdependent, and much work remains.