Creating a Culture of Health in Appalachia: Disparities and Bright Spots is a health research initiative to identify and explore Appalachian communities with better-than-expected health outcomes.
Launched in 2015, this multi-part initiative
The research initiative is sponsored by the Robert Wood Johnson Foundation (RWJF) and the Appalachian Regional Commission (ARC) and administered by the Foundation for a Healthy Kentucky.
---
About the Partners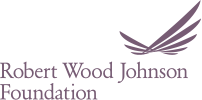 ---
The Robert Wood Johnson Foundation is the nation's largest philanthropy dedicated to health. For more than 40 years, RWJF has supported research and programs targeting some of the nation's most pressing health issues.
RWJF provided funding for this research as part of its Culture of Health Initiative.

---
The Appalachian Regional Commission provided funding, leadership, and project management for the initiative.
ARC is an economic development agency of the federal government and 13 state governments focusing on 420 counties across the Appalachian Region. ARC's mission is to innovate, partner, and invest to build community capacity and strengthen economic growth in Appalachia to help the Region achieve socioeconomic parity with the nation.

---
The Foundation for a Healthy Kentucky served as the grantee and fiscal agent for the initiative.
Funded by an endowment, the nonpartisan Foundation's mission is to address the unmet health needs of Kentuckians by developing and influencing policy, improving access to care, reducing health risks and disparities, and promoting health equity. Since the Foundation opened its doors in 2001, it has invested more than $27 million in health policy research, advocacy, and demonstration project grants across the Commonwealth.